The cane harvest in the geographic valley of the Cauca River is carried out at an approximate cultivation age of 13 months and through two systems: semi-mechanized and mechanized
Semi-mechanized harvest
The semi-mechanized harvest consists of making manual cutting of the stem at ground level by cutters, who remove the bud and leaves when the cut is made in green. The long cane is left in neat jets on the ground, then it is collected by lifting machines and deposited in transport wagons. The performance of the cutters is reported between 2-4 t / man / day for semi-clean cane and between 5-7 t / man / day for previously burned cane.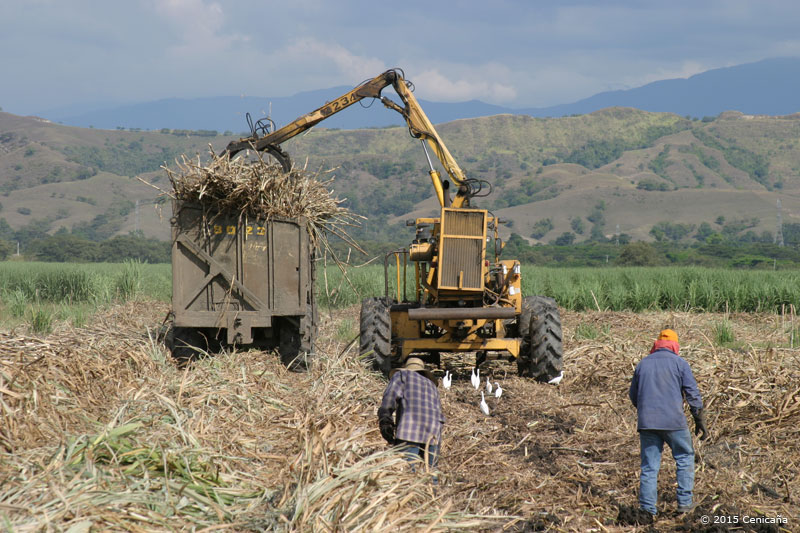 Lifter in semi-mechanized harvest system.
Mechanized harvest
In the mechanized harvest, integral self-propelled machines are used, which have different mechanical and hydraulic systems to cut the bud, make the basal cut, chop the stems, remove the leaves and raise the harvested cane to deposit it in transport wagons. Combine yield is reported in 24-25 ton / h in semi-clean cane. At present about 50% of the harvested cane in the geographical valley of the Cauca River is carried out through the mechanical system.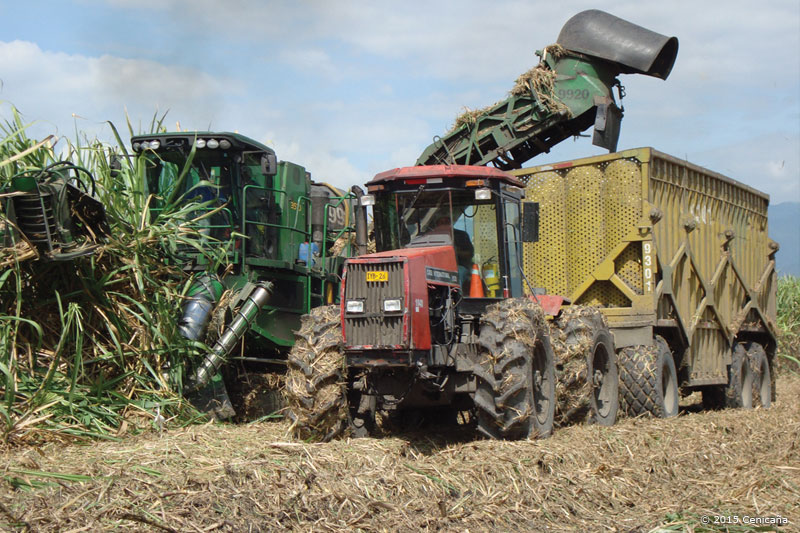 Mechanized harvesting system with self-propelled combine, articulated tract and HD 20000 wagon.
Cenicaña has conducted research on the impact of the use of both semi-mechanized and mechanized harvesting equipment in different cane varieties. Based on the results obtained, some recommendations have been made to mills and suppliers:
Make use of freight wagons of less weight and capacity to transport the cane inside the lots.
Correlate the dimensions of the wagons with the field design.
Correlate the size of the wagons and the capacity of the tractors.
Supervise harvest work.