PAT | Recognition of sugarcane diseases and preventive management.
February 28
|
8:00 am
-
3:00 pm

---
During the event, we will talk about:
Symptoms, signs and diseases, recognizing factors that cause incidence and severity, offering a series of tools to evaluate the various aspects of the crop.
Who is it for:
Sugarcane growers.
Professionals and technicians from sugar mills.
Technical assistants.
Suppliers and supplier staff.
Other players in the sector.
Enrollment and registration process
training is Delivery to Italy takes one or two business days, with quota limited, which must be reserved by previously registering online.
Make your registration online through the registration form available on this page (Register now).
You will receive a confirmation email in which you will obtain a ticket with the (unit's QR code) that endorses your registration.
Present the ticket (QR code) on the day of the training to register your attendance. It can be carried printed or on the mobile.
Exhibitor: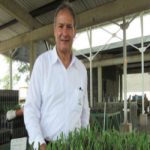 Juan Carlos Angel.
phytopathologist.
Cenicaña
Eliana Andrea Rincon.
Agricultural Microbiologist.
Cenicaña
---