Innovation gatherings | Open innovation and collaboration: driving sustainable growth in the sugarcane agribusiness
may 18
|
2:00 pm
-
4:30 pm

During the event we will talk about:
How open innovation and collaboration can boost sustainable growth and competitiveness in our sector. We will also expose success stories, useful tools and platforms for the strategic direction of innovation.
Who is it for:
Event schedule:
2:00 – 2:15 pm Welcome Remarks. «Dr. Fredy Garces / Dr. Nicolás Gil»
2:15 – 2:30 pm Presentation of the diversification research area. «MSc David Palacios»
2:30 – 3:45 pm Conference on open innovation and collaboration. «Dr. Andres Felipe Naranjo»
3:45 – 4:30 pm - Farewell sharing.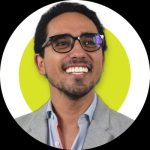 Andrés Felipe Naranjo Cadena.
14 years of work and academic experience developing work with Nokia, Procter & Gamble, FVL, Carvajal, Lloreda, Centelsa, among others.
Director of the master's degree in innovation management. Founder and leader of the INNLab®️ project (Icesi Innovadora).
---